Congratulations on your upcoming RV purchase, and thank you for reaching out to learn more about a Premier RV Inspection for the unit. We hope to provide you with the confidence of a full mechanical review of your new (or new-to-you!) home-on-wheels!
While you set your sights on travel plans and destinations, the next step you should take in your RV journey is to protect it! We've partnered with Wholesale Warranties to provide Premier RV Inspection customers with exclusive access to top-level RV protection. Learn more about RV Warranties below, or click here to request a free quote on their website!
Keep in mind that all RVs must pass inspection before they are eligible to get set up with a warranty, and Wholesale Warranties will cover the cost of your Premier RV Inspection with the purchase of their policy.
Do I Really Need RV Warranty Coverage?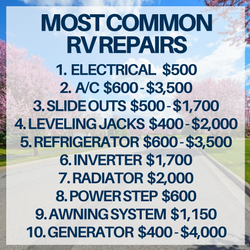 Did you know that between parts and labor, the average RV repair costs $300 per hour, with even the most common failures resulting in very costly total repair bills? These costs are expected to rise in 2019 as the demand for more efficient and technologically savvy repair increases. Just check out the graphic to the left for an idea of what these component failures might cost!
How does an RV Warranty from Wholesale Warranties protect you from these costs?
• RV warranties are specifically designed to cover the most common and expensive mechanical failures modern RVs face
• Can be used at any licensed repair facility in the US or Canada, so you can get your rig repaired at the location of your choice, and get back on the road
• Variety of coverage options available to meet your desired level of risk
• Invest in a low deductible policy and let your warranty pick up the rest!
• Top-Rated policies you can trust, from the RV community favorites with a BBB A+ Rating and over 300 positive reviews from actual customers!